Traditional methods of education as we know it are becoming a thing of the past. They are becoming increasingly digitized, and being driven by technology innovations. In fact, the so-called EdTech, the education technology industry, is expected to reach $680.1 billion by 2027, growing at an annual rate of 17.9%.
Among the most significant trends in EdTech, augmented reality rightfully takes a leading position. With the value of AR in edtech predicted to surpass $5.3 billion by 2023, a pool of opportunities for educational institutions and businesses will certainly open.
In this article, we will explore this EdTech trend in more detail as well as provide fresh ideas and expert advice on how to use AR development in education.
Using augmented reality in education and training: The opportunities and challenges
Augmented reality in education can serve a number of purposes. It helps the students easily acquire, process, and remember the information. Additionally, AR makes learning itself more engaging and fun.
It is also not limited to a single age group or level of education, and can be used equally well in all levels of schooling; from pre-school education up to college, or even at work.
Benefits of augmented reality in education:
Accessible learning materials – anytime, anywhere. Augmented reality has the potential to replace paper textbooks, physical models, posters, printed manuals. It offers portable and less expensive learning materials. As a result, education becomes more accessible and mobile.
No special equipment is required. Unlike VR, augmented reality doesn't require any expensive hardware. Because 73% of all teens currently own a smartphone, AR technologies are immediately available for use for the majority of the target audience.
Higher student engagement and interest. Interactive, gamified AR learning can have a significant positive impact on students. It keeps them engaged throughout the lesson and makes learning fun and effortless.
Improved collaboration capabilities. Augmented reality apps offer vast opportunities to diversify and shake up boring classes. Interactive lessons, where all students are involved in the learning process at the same time, help improve teamwork skills.
A faster and more effective learning process. AR in education helps students achieve better results through visualization and full immersion in the subject matter. A picture is worth a thousand words, right? So, instead of reading theory about something, students can see it with their own eyes, in action.
Practical learning. Apart from schooling, professional training can also benefit greatly from the use of AR. For example, accurate reproduction of in-field conditions can help master the practical skills required for a certain job.
Safe and efficient workplace training. Imagine being able to practice in heart surgery or operating a space shuttle without putting other people in danger or risking millions of dollars in damage if something goes wrong. It is possible with AR.
Universally applicable to any level of education and training. Be it learning games for kindergarten or on-the-job training, AR isn't limited to only one use case or field of application.
Challenges of augmented reality in education
Despite the listed benefits, there are certain pitfalls you should take into account when building EdTech solutions with augmented reality:
A lack of necessary training. Some teachers might struggle putting these new technologies into practice as their background training doesn't provide the necessary skills. Only the most open-minded teachers and innovative educational institutions are ready to apply augmented reality apps in education.
Dependence on hardware. Using augmented reality in the classroom requires a certain resource base. For example, not all students have smartphones capable of supporting AR applications.
Content portability issues. The AR app you build needs to work equally well on all platforms and devices. However, it is practically impossible to provide the same quality of AR content on any device.
How AR in education works
AR is part of a larger Extended Reality (XR) concept, which also includes VR and MR technologies. Augmented reality enhances the real-world environment with text, sound effects, graphics, and multimedia. In other words, AR brings us an enriched version of our immediate surroundings by layering digital content on top of the graphic representation of the real world.
The hardware for AR learning may be pretty basic, such as smartphone cameras for playing a popular PokemonGo game. Yet, the hardware in AR glasses like Google Glass, Dream Glass, and Vizux Blade are arguably more convenient for delivering AR to consumers.
However, the AR content is generated with AR software, which is still mostly developed for a specific AR-hardware vendor and often sold with an AR hardware kit. Augmented reality in education and training has a wide array of uses and enables its adopters to learn-on-the go using real-time instructions.
Augmented reality in education, examples and use cases
Despite a common misbelief, AR technologies offer so much more than chasing pokemon around town.
Here are some outstanding examples of augmented reality in education.
AR apps for kids
It's no secret, kids are eager adopters of groundbreaking technologies like AR. Some of the most ingenious augmented reality education apps are made for the youngest of users.
Inspired by the success of PokemonGo, AR vendors are building apps that change the ways children read books, look at art and posters, learn science, and conduct classroom lab experiments.
Examples of AR apps for kids
Catchy Words AR works just like the famous PokemonGo, but instead of catching little creatures, kids walk around the classroom, find the letters, and guess the right word. This may be the most entertaining way to learn new words in an elementary school.
NarratorAR teaches children aged 3-5 how to write in a fun and engaging manner. The app enhances letters they write with captivating special effects and makes handwriting a truly exciting experience.
Quiver Masks allows kids to create their own AR masks and participate in lessons more interactively. With it, kids will grow a new profound love for reading new books. They can create AR characters using their own imagination, and retell stories using their masks.
Augmented reality in the classroom
Probably, the most popular application for augmented reality in education is the use of AR apps directly in the classroom. In this case, they can help the teacher explain a subject, provide a visual representation of the material, and help students test out their knowledge in practice.
Namely, you can find an AR app for almost any subject, including chemistry, geometry, zoology, grammar, and even programming.
Examples of AR in the classroom
Assemblr EDU leaves traditional learning systems in the past, where students counted solely on textbooks, illustrations, and diagrams. Now, teachers can turn their classes into an immersive 3D and AR experience, helping students engage with the material with more curiosity and understanding.
Merge Cube transforms visual objects into 3D tactile items that students can study literally inside and out. Using this touchable AR in the classroom will help learners master STEM and science much faster and more efficiently.
Arloon Geometry is a go-to AR learning app for geometry classes. This subject relies heavily on visualization, and this app assists students in exploring 2D and 3D geometric shapes interactively.
Distance learning
By using augmented reality, students can learn even outside the classroom. What's more, online or distance learning can be easier and more efficient with AR-aided educational materials.
Examples of AR apps for distance learning
Wonderscope exemplifies how augmented reality can be used in education for children and is an effective tool for when students can't physically attend the class. The app brings the stories into real life through the device's screen, sparking kids' curiosity and excitement from reading new books.
The 3DBear app combines all the benefits of AR learning and at the same time is perfect for remote classes. The platform's developers designed a convenient space that helps teachers control the distance learning process.
Mondly, a language-learning app, has recently integrated an AR-based virtual teacher to help users practice their skills as if they were in a real-life setting.
Marketing in education
There is huge potential in AR technologies for marketing and advertising, even in the education field. A number of universities in the USA are already using AR tours to increase enrollment and help new students find their way around campus.
Examples of AR marketing in education
The University of Scranton used AR tricks to complement its marketing campaign. People could see an AR-powered animation on a poster when pointing their phone with a Layar app at it.
Cal Poly Pomona is a great example of how to use augmented reality in education for marketing. The university has designed an AR app that gives insight into the history of the campus. By using their devices, people can take a look at the historical appearance of the building and learn the background of some locations.
The Community College of Beaver County, Pennsylvania, uses augmented reality to deliver various types of content, including video, audio, and digital publications. Thus, the app provides a fun and informative way to explore the campus. The app also has gamification elements to make the experience even more engaging.
AR for museums
AR is increasingly used to enhance the museum experience for today's audience that craves interactivity. By adding AR content to objects like statues and paintings, historic artifacts, documents, and architectural monuments; museums can create more engagement and boost the visitors' interest in artistic or cultural heritage.
One characteristic feature of AR apps for museums is that AR content can easily be accessed through the smartphone camera.
Examples of AR for museums
The Art Gallery of Ontario amazes its visitors with the ReBlink app. The AR platform helps visitors take a fresh look at familiar art pieces. The app moves the plots in time, to the 21st century, and demonstrates how the characters would look and act today.
The Smithsonian Institution in Washington, D.C. uses the Skin and Bone app to make the dreams of museum fans come true. By pointing their device at its thousand-year-old skeleton behind the glass, visitors can see how an ancient animal would look and behave in real life.
The botanical garden Jardin Botanique Grand Nancy in France offers users the ability to download a namesake AR app available for Android and iOS. During the AR-enhanced tour, visitors can view digital animals that seamlessly fit into the botanical garden scenery. Each of the digital animations is accompanied by educational audio content. On top of that, the app integrates over 20 fun games for kids and adults.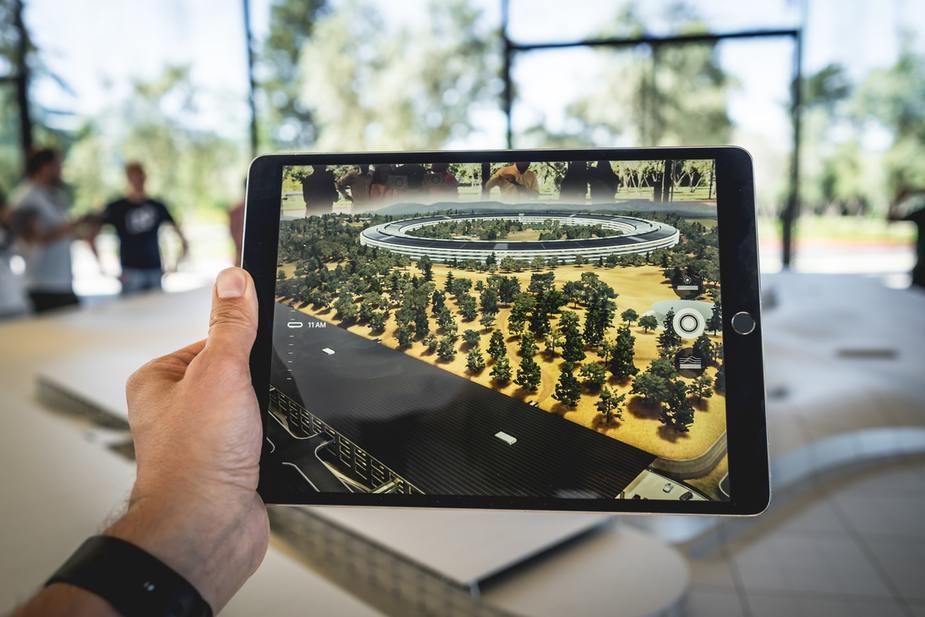 AR for professional training
The average shelf-life of a particular professional skill is approximately five years nowadays, which means that organizations in both corporate and government sectors must educate and re-educate their employees on a regular basis.
Here's how businesses across industries are applying augmented reality for education and training in the workplace.
Augmented reality in healthcare education
Medical professions require a high level of proficiency and accuracy since any possible mistakes can have a negative impact on patients' health and wellbeing.
Augmented reality in medical education is usually applied to help learners study through interactive visual representations, create simulations and train medical students, and practice surgery or other medical procedures on virtual patients.
Examples of AR in healthcare education
The HoloAnatomy is an award-winning healthcare education app helping medical students learn about the human body using AR simulations.
Complete Anatomy is another example of an augmented reality use case in education that allows students and professionals to master human anatomy, understand the functions of each muscle and bone, and visualize their relations and movements.
Touch Surgery leverages AR technologies to help surgeons practice over 50 procedures at any time and anywhere, thus contributing to the quality of the service worldwide.
Augmented reality in the space industry
Historically, the space industry has been on the leading edge of adopting emerging tech, and AR is no exception. Today, the space sector leverages AR learning to train astronauts and engineers how to perform complex tasks that require advanced technical skills and precision.
Learning how to build a space capsule, maintain a space station, and even explore the surface of unknown planets is easy using real-time instructions projected though AR-glasses.
Examples of AR in the space industry
NASA currently uses AR to teach astronauts to walk on the surface of Mars using digital images.
Star Chart is an example of augmented reality in education and professional training, but also simply for astronomy enthusiasts. The app is an AR-powered database with over 120,000 stars and 88 constellations that helps us discover the sky we see every night.
Spacecraft AR is an educational app by NASA that allows enthusiasts to discover not only the Universe but also the Agency's satellites, rockets, and robots. It's one of the few chances for students to see a 3D model of extraterrestrial probes.
Augmented reality in military training
The military sector offers some of the most impressive examples of augmented reality in education. As a rule, soldiers have to relocate to a particular setting for military training, which often takes time and involves expenses. AR can emulate an environment, which closely resembles the setting where soldiers are expected to operate.
Similarly, AR can emulate a combat environment by projecting digital images of weapons, enemies, and vehicles onto AR-glasses, without exposing soldiers to danger.
Examples of AR in military training
Augmented reality for manufacturing training
Some of the most spectacular examples of how augmented reality can be used in education can be found in the manufacturing sector. While previously, learning how to operate complex machinery required lengthy preparation and a lot of theoretic knowledge, today's workers can complete their tasks using real-time instructions projected on the AR screens.
On top of that, companies can now hire employees with basic skills and experience and train them on-the-go using AR instructions.
Examples of AR for manufacturing training
Siemens uses AR to teach its employees how to weld using AR simulation.
JigSpace, an AR app for presentations, and can be used as a collaboration tool for engineers. The platform makes it easy to create a clear 3D visualization of the project for co-workers to facilitate cooperation.
Atheer is an AR platform for manufacturing businesses that helps train new employees via guides, documentation, and additional resources under safe working conditions.
How to use augmented reality in education field ?
With such giants as Apple and Google pushing AR technologies forward, right now could be the best time to join the trend. Dedicated developer tools including ARCore and ARKit, paired with powerful hardware, such as iPhoneX, make it possible for businesses to build successful AR-based EdTech solutions.
Based on our extensive experience in this field, we would like to provide you with a basic roadmap for AR development in education:
Define your goal and target audience. Depending on the age of your users and the general purpose of the app, the functionality will differ.
Polish the idea through market research and viability testing to understand its real potential.
Build a POC to test out the capabilities of the chosen tech stack (it is a recommended approach for innovative technologies, including AR and VR).
Create an MVP – the basic app version, just to test the core functionality.
Test the product and iterate toward success. Take into account that you will need to update the app regularly with new AR content.
Source and author of this publication: Alexey Shalimov, CEO at Eastern Peak https://easternpeak.com/blog/augmented-reality-in-education-the-hottest-edtech-trend-and-how-to-apply-it-to-your-business/